The Entrepreneur's Design Toolkit (TEDT)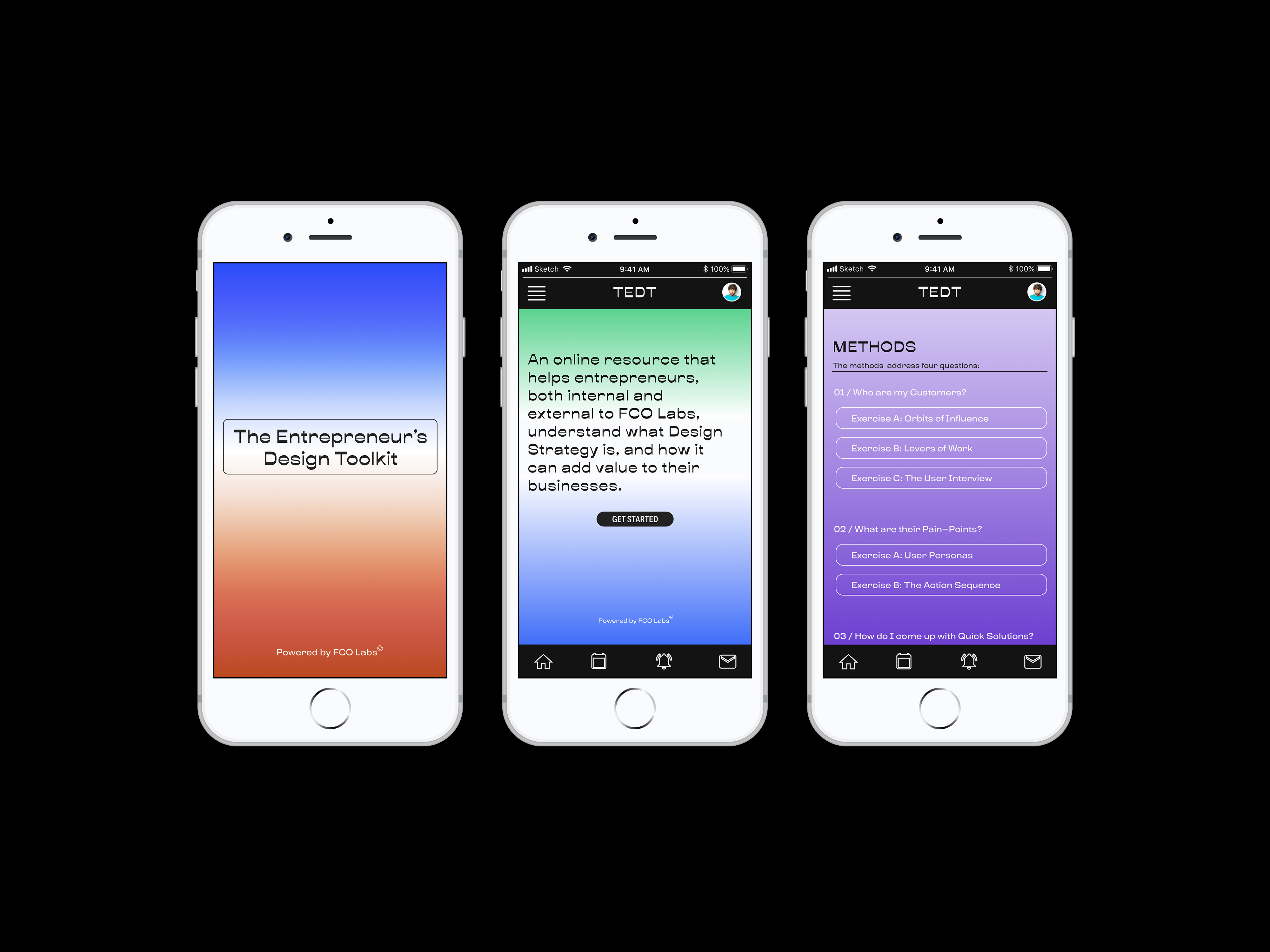 The Entrepreneur's Design Toolkit—A Summer Internship Project / 2018


---
Context: Summer Internship Project
Organization: Fidelity Labs
Year: Summer 2018
Location: Boston, MA
Typology: Website + PDF
Role: Content creation, Design development, UI Design, Interviews, Wireframes and lo-fi iterations, Interaction Design, Visual Design
Team: Andrea Leitner, Gigi Kalaher,
Mukul Chakravarthi
---
What is the Entrepreneur's Design Toolkit?

A participatory web-based toolkit that introduces entrepreneurs within Fidelity Labs to design thinking methods that could add value to their internal startups.

In the summer of 2018, I did a three month internship with Fidelity Labs, the new business incubation arm of the Boston based financial services company, Fidelity Investments. My internship project involved the creation of a design thinking toolkit geared specifically to entrepreneurs that could be accessed and used by the organization at large.




The Goal

The project was driven by three vital questions:


Research Insights: What were Entrepreneurs' thoughts on Design Thinking?

Interviews with four managing directors at Fidelity Labs' internal startups, and two independent entrepreneurs outside the company yielded the following insights:

Knowledge: All 6 entrepreneurs knew about design thinking and its associated methods but didn't use them in their product development cycles.

Interest: 5 out of 6 entrepreneurs expressed a keen interest in learning more about design thinking methods with the vital caveat that it dovetails and aligns well with their existing product development practices and goals.

Time: All 6 entrepreneurs stressed that time played a crucial role in helping them learn new skills, ideas and concepts as most of them frequently worked 8-10hrs a day. This meant the toolkit needed to be concise, accessible, yet comprehensive in its content.

Format: With mobile phones being their primary sources of news and information, almost all respondents emphasized the importance of being able to use the toolkit on the move, and lend itself to being shared with others.

Impact: With no two entrepreneurs working on the same idea, the exercises and design methods in the toolkit must be general enough for teams to use at any point of the product development process, but deliver concrete and actionable results for teams to carry with them.

Collaboration: All the respondents expressed a strong desire to be able to share the toolkit with their teams and perform the exercises as a group in a physical space. So the toolkit must be able to serve as an educational tool for individuals while facilitating collaborative learning for teams.






Outcome: The Toolkit

Out of our research came the Entrepreneur's Design Toolkit— a web-based resource that entrepreneurs could use on the go, share with the teammates, and use to run collaborative workshops with their product teams to foster new ideas, and validate existing decisions.



The Entrepreneur's Design Toolkit from Mukul Chakravarthi on Vimeo.





Homepage

Homepage / The Entrepreneur's Design Toolkit—A Summer Internship Project / 2018

The homepage contained essential information about the website, its offerings, its target audience, and testimonials from executives that have already used design methods before. The structure of the site is quite simple with the top nav bar containing a list of design methods that users could perform with their teams, existing project case studies where design methods were used, downloadable resources, and a personal account page where users could save their favorite methods and track their progress on design exercises.





Methods: Four Questions, Seven Exercises

Methods Page / The Entrepreneur's Design Toolkit—A Summer Internship Project / 2018

The design methods in the toolkit were framed by four overarching questions: "Who are my customers?" "What are their pain-points?" "How can I come up with quick solutions?" And "How can I improve upon my solutions?" As the user clicks on each question, they are directed to the corresponding design method that helps address that question.

The exercises addressed and improved upon crucial tasks such as stakeholder mapping, formal and informal interviewing, journey mapping, storyboarding and feedback documentation.





Exercises

Exercises: Orbits of Influence / The Entrepreneur's Design Toolkit—A Summer Internship Project / 2018

Above is an exercise called Orbits of Influence that helps users map the various orbits of stakeholders that would be vital to the success of the business idea. Each exercise begins with a general description of its uses and focus, steps to conduct the exercise, the materials required to conduct it, a real-life example of the exercise being used, and a downloadable pdf that can be printed and marked on in the office.



Exercises / The Entrepreneur's Design Toolkit—A Summer Internship Project / 2018







Personal Profiles

Exercises / The Entrepreneur's Design Toolkit—A Summer Internship Project / 2018

Alongside the exercises, and methods, every user of the toolkit had the option of creating their own profiles. The profile page allowed users to add their favorite design methods and conatined a personal dashboard that catalogued all the projects that the user was a part of.

The dashboard tracked the progress that each user had made with the toolkit (if they had finished all exercises or had left some incomplete) and allowed users to share exercises with fellow team members.





Downloadable Resources

Downloadable Resources / The Entrepreneur's Design Toolkit—A Summer Internship Project / 2018

Catering to users of all kinds, the toolkit allowed teams to take almost all of its material offline through the resources page. Every method, exercise, or diagram could be packaged and downloaded as a pdf for teams to use in the office.





Feedback and Learning


1. Product Centered Toolkit: The toolkit must better articulate how each exercise adds value to the product/service being created.

2. Plug–n–Play: Entrepreneurs have very specific needs as they build their businesses. Hence, make the toolkit more open and not sequential wherein an entrepreneur can enter and exit the toolkit at any given point without having to go through a journey.

3. Pre–Startup or Post Series C: Entrepreneurs, owing to a lack of time and resources, try to launch as soon as possible. Hence, the two ideal use cases for such a document is as an ideation device before an entrepreneur starts his business or for a start–up that has reached a particular scale.

4. "Four does the job": Calls to make the toolkit more pithy and condensed were common.





Final Insights


Interviews and Customer Journey Mapping: That fact that these were the two most well received exercises, speaks to the need for straight–forward and instructional information whose objectives are clear.

Engaging with a Strategist: In many cases, entrepreneurs were far more familiar with the methodology and theoretical aspects of Design Thinking, but far less familiar with how to leverage the skills of a strategist and engage with them as contributors to their
start–ups.

A Validation Device more than a Purely Educational one: Referencing the usefulness of a checklist, some mentioned that the toolkit could just be a device that can either validate or refute the choices that entrepreneurs were making.