On Photography—Susan Sontag and David Levi Strauss
Sontag's On Photography and Levi Strauss's Between the Eyes / 2018
Typography II Paul Soulellis

Prompt: Design a book that combines two texts—one assigned to you, and the other being a choice of your own—in a manner that reflects the subject matter being featured in it.

Project: The text assigned to me was Susan Sontag's "On Photography", a seminal work of her's that featured a collection of her essays on photography published between 1973 and 1977 in the New York Review of Books. The secondary text that I chose was David Levi Strauss's "Between the Eyes", a book that captures his own observations on photography over the years.

The two texts—Sontag's and Levi Strauss's—while incisive, offered two very different reads. Sontag's essays were authoritative, moralistic, and sometimes even bordered on obstinacy. Strauss's essays on the other hand, while being occasionally acerbic on certain issues, were by and large, descriptive of modern photography, and contextualised it within the larger tapestry of culture and politics. The two differing tenors led me to divide the page into two, with Sontag occupying the upper portion, and Strauss, the bottom. Essays from the two books are paired based on their positions on common themes.




Sontag + Levi Strauss / 2018 / Front Cover Detail



Sontag + Levi Strauss / 2018 / Bleed Detail



Sontag + Levi Strauss / 2018 / Chapter Summary Page



Sontag + Levi Strauss / 2018 / Back Cover Detail


Sontag + Levi Strauss / 2018 / Sample Spreads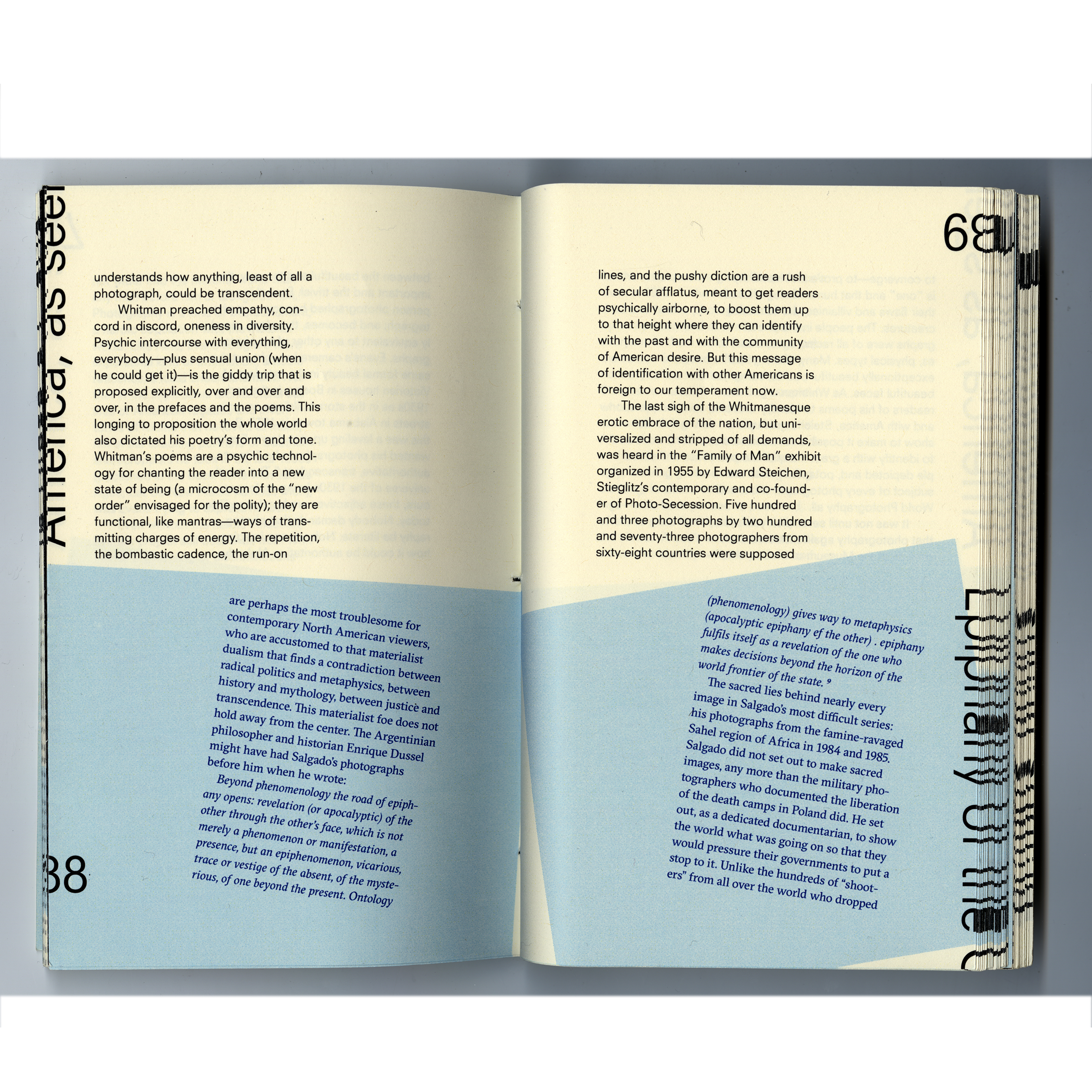 Sontag + Levi Strauss / 2018 / Sample Spreads